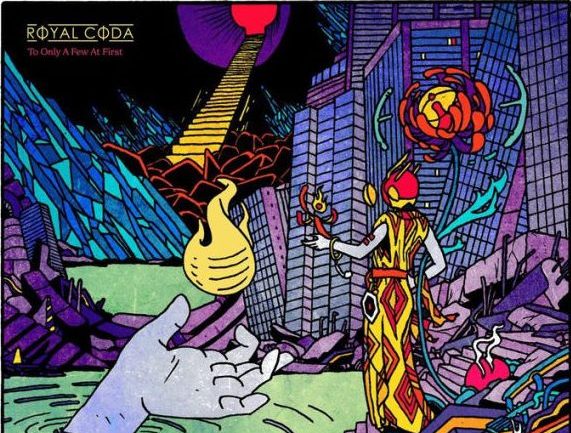 When Royal Coda announced in 2019 that Dance Gavin Dance and Swancore progenitor Will Swan was joining their ranks, it caused reverberations that echoed throughout the entirety of the post-hardcore community. As a quasi-reunion of DGD's Happiness line-up, fans were excited to see these two dynamos together again. With him, in addition to Royal Coda's founder, guitar prodigy, and erstwhile Stolas/Sianvar member Sergio Medina and ex-A Lot Like Birds drummer Joseph Arrington, Royal Coda's pedigree almost guaranteed whatever they would put out next would be an instant classic. And yet, Compassion wasn't. While certainly not a poor effort, it lacked the explosiveness you would expect from a line-up that contained roughly 65% of all the talent in the progressive post-hardcore scene.
Thankfully their newest record, To Only A Few At First lives up to the potential of the members involved. Perhaps Compassion had just suffered from too short a gestational period; sometimes things don't gel immediately. Though all these members had worked together previously in different permutations – Kurt and Will with DGD, Will and Sergio in Sianvar, Joseph and Kurt in A Lot Like Birds, etc… – they still had to find out what it meant for THIS specific line-up to be working in synchronicity. Thankfully, To Only A Few At First sees the members walking in stride and resulting material is some of the best of their respective careers.
Specifically, Kurt Travis is on fire here. His versatility and utility has always been something that's flown a bit under the radar, but here it's rather blatant how the diversity in his delivery can further elevate already impressive outlines of a song. "We Slowly Lose Hope Things To Come" for the most part, features his powerful post-hardcore drawl, but towards the end of the track, he opts for an R&B inspired flow that pairs wonderfully with Will and Sergio's psychedelic hardcore riffage. He is able to croon ("Insatiate, The Senses"), soar ("To Only A Few At First") and roar ("Where The Air Seemed to Cease") but it is always at the service of the song.
Of course, it would be impossible to forgo mentioning the chemistry between Will and Sergio. Though Sianvar was already an impressive testament to their compatibility, To Only A Few At First is arguably a better showcase of just how well these two work together. They are both well versed in a plethora of genres – the main influences here being progressive rock and funk – and the way they bridge together their influences creates a fusion style specific to Royal Coda. "One Last Time, Like Hypothermia" is both funky but introspective with a prog rock bridge, and "Screen Time Overload" is classic swancore through and through with flitting guitar licks and clean emo-inspired passages.
The word I keep coming back to when I think of this record as whole, is chemistry. To Only A Few At First is album that where each member plays other other's strengths: Will's playing intertwines's beautifully with Sergio's but also allows for Joseph to be creative with his kit. On "Too Only A Few At First" bassist Steffen Gotsch faithfully follows the map scrawled out by the guitars, but when appropriate, takes excursions of his own to flesh out the landscape. This is how a band should operate, and that is why Only A Few At First is an easy highlight in the careers of all those involved.