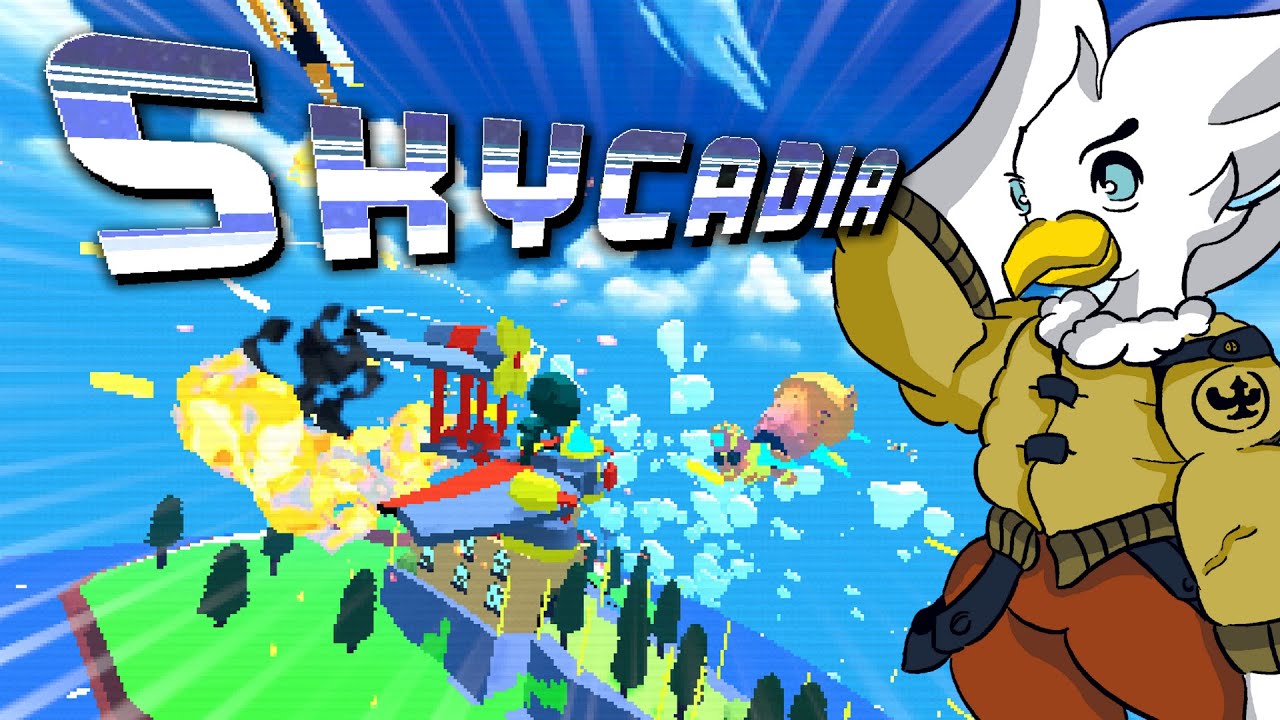 Skycadia is a retro inspired, arcade style, dogfighting game. You will take a plane to the sky, unlocking characters as you progress – a package deal that comes with a new plane and weapon. Skycadia is a very challenging game. Large ships will constantly spawn on screen, vomiting out a host of small ships that will fire at you. There are so many ships on screen, with so many bullets, that it can often become laggy. You will fly around on spherical maps, bumping into the same areas, and therefore constantly encountering enemy planes.
Skycadia is astoundingly simplistic. It offers two modes: one is the mode already mentioned, and the other is a freeroam in which you do nothing but fly your plane (wheeee?). The main mode is an extremely arcade-y experience, in which the main objective is to beat your high score or the Leaderboards. It's not an easy task, and the challenge to try just one more time after constantly dying can be addicting… or annoying. Varied enemy types will fill the screen as well, so you learn to master the art of dodging enemies and bullet fire quickly, or you don't and die – it's not too much unlike bullet hell shooters. Some will love the extreme challenge, yet others like me will wish for an update that includes difficulty settings, or something similar.
Skycadia is simple to a fault. You can control your ship, speed up, spin around and fire, but you can't slow down. Unlocking characters is also too easy, it won't take long to do so, and the new planes unlocked offer a shiny paint job, with a new weapon that isn't particularly interesting or flashy. Surprisingly, Skycadia is barely improved from the demo version. Skycadia offers scant unlockables, some new maps, the freeroam mode, and a 3rd person perspective. They're all fine additions, but the lack of modes brings down the game. If no story is going to be added, I need something with more substance to keep me playing; for example, Sonic & All-Stars Racing Transformed is an arcade racing title, but it comes with a vast collection of unlockables and challenges that keep the game entertaining. Skycadia has, well, nothing. A story mode would have especially pushed this retro inspired dogfighter over the edge.
Skycadia is a decent indie arcade title that could have offered so much more. It's a bare bones title that offers the opportunity to shoot around in a pastel world with pixelated, old-school graphics, but the gameplay doesn't match the excitement of the aesthetic. It's pick up and play, but also easy to put down. It's a game that will not stick out amongst the sea of indie titles because nothing, aside from the visuals, is truly unique here. If you're looking for a flawed yet decently enjoyable indie, arcade title, I would recommend waiting for this one to go on sale. One can only hope that further updates will improve the game, but I'm not holding my breath.